New ELOPE is out!
Dear SDAŠ members and friends,
We are happy to announce that the latest issue of our academic journal ELOPE is available online at http://revije.ff.uni-lj.si/elope/issue/view/590. Printed version will be out in January 2017.
ELOPE Vol. 13, No. 2, 2016 (Ed. Mojca Krevel, Journal Eds. Smiljana Komar and Mojca Krevel) is dedicated to long-time co-editor of ELOPE Prof. Uroš Mozetič, who passed away earlier this year. The issue opens with a selection of his poems, prepared by Nada Grošelj, and a detailed list of his publications by Kristina Pegan-Vičič. The rest of the volume features original research by Tadej Braček, Urša Gavez, David Hazemali, Tomaž Onič, Dilek İnan, Ayşe Didem Yakut, Kristina Kočan Šalamon, Ellen Maureen Taylor, Tina Balič, Gašper Ilc, Monika Kavalir, Smiljana Komar and Mette Hjort-Pedersen.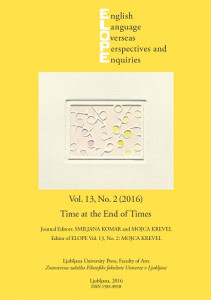 (Skupno 17 obiskov, današnjih obiskov 1)