Dear SDAŠ members and friends,
We are happy to announce that the latest issue of our academic journal ELOPE is available online at http://revije.ff.uni-lj.si/elope/issue/view/605. The printed version will be out soon.
ELOPE Vol. 14, No. 1 (2017) (Eds. Smiljana Komar and Mojca Krevel; Journal Eds. Melita Kukovec, Kirsten Hempkin and Katja Težak) has the title Addressing Learners' and Teachers' Needs: Keeping up with a Changing EFL World and scientifically deals with the challenges teachers and students encounter in the EFL context.
The issue includes original research by Melita Kukovec, Liljana Burcar, Mirjana Želježič, Mirjana Semren, Danijela Šegedin Borovina, Nataša Gajšt and a book review by Janez Skela.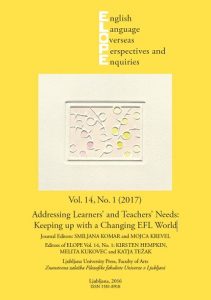 (Skupno 12 obiskov, današnjih obiskov 1)